With a heavy heart the fashion industry bids goodbye to legend Karl Lagerfeld. He Died in Paris on 19/02/2019. He was 85 years old.
The Last Show: Although he couldn't attend his final show for Chanel, his presence was still felt in silhouettes presented in the show at the Spring/Summer 2019
Inspirational Personality: Karl took work utmost priority in his life and said "There's is no secret to life!"
Major Success: Karl's Iconic success was with Fashion Label Chanel!
Background: Raised in Hamburg Karl Lagerfeld was born on Sept 10, 1933. Not only did he create some of the most iconic fashion Karl also spent his career surrounded by many controversies!
Moving to Paris: He was a great artist when it came to life & fashion! He moved to Paris in hopes of making it big in Fashion and yes he did indeed make it gigantic not just big! Karl won International Woolmark Prize in 1950's. This victory led him further in the fashion scene and the rest is History!
RIP Mr Lagerfeld , Fashion Industry bids you goodbye!
Here are some shots from RTW2019 Karl Lagerfeld Collections
The Next BIG name on the list for Chanel: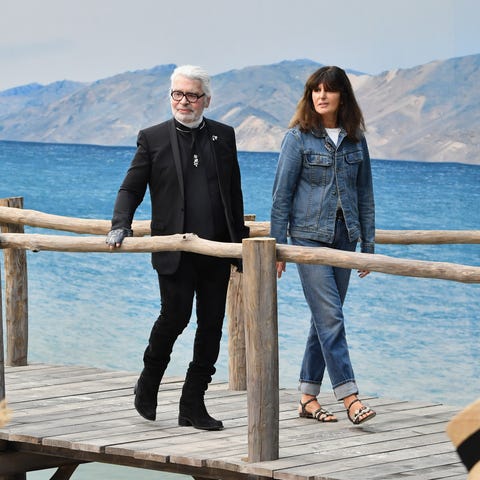 Virginia Viard, who will succeed Karl Lagerfeld at the House of Chanel
She joined Chanel in 1987 as an intern in haute-couture embroidery
Both worked with the for three decades and inspired each other's work.
She is currently Chanel's fashion studio director.
Lagerfeld often described her as essential part of his designing career.
More Useful Links :
Sources: https://www.townandcountrymag.com/style/fashion-trends/a26411776/virginie-viard-karl-lagerfeld-chanel-successor/
If you loved this post show us some love by liking & sharing the post .
Suggestions and comments are most welcome!
Author of this post:
CHANCHAL MISHRA
Stylist, Artist, Creative Content Writer. This blog is written with an intent of bringing you all the essentials of the Fashion world. Her goal is to provide best of my knowledge to readers. Feel free to drop mails and comments.
Wish you all love and light! Namaste!